I wanted to back up here for a moment and talk about the skin problems Louie has had. As I mentioned, at about the same time the pancreatitis and lymphangiectasia started, we were also seeing some very disturbing problems with Louie's skin. We'd consulted an independent dermatologist who suspected an immune-mediated disease related to his most recent rabies vaccination, and indeed this was confirmed by the dermatologist who saw him at UC Davis.
The full name of this condition is rabies vaccine-induced ischemic dermatopathy, and it is one condition that can result from overvaccination with the rabies vaccine. I'll be adding more information here over the coming weeks about this condition as well. You can see from the pictures of Louie to the right what the disease does; at the top is the crusting on his ear pinnae, which continued like this until much of the red area you see in the photo eroded away. Below that is a picture of the vaccine injection site many months, or perhaps a year or so, after the vaccine was administered. This photo actually shows the site after it had healed up quite a bit; at one time the entire darkened area was open and oozing. (Louie is a Chinese Crested, so he's hairless on most of his body. The hairlessness is just the way he is, but the blackheads and other lumps you can see on his legs in this picture are due to malnutrition from the intestinal disease.)
What has intrigued me about this disease in Louie's case is that it had its onset at the same time as the life-threatening intestinal problems.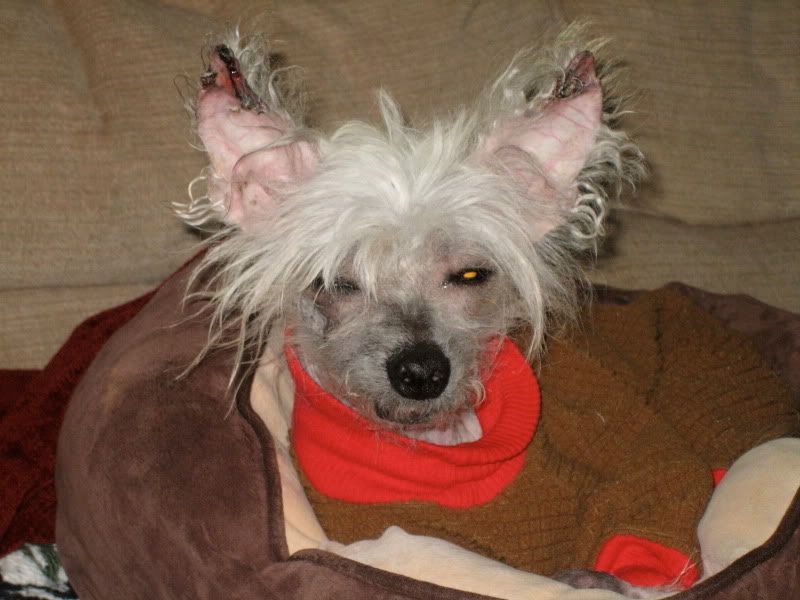 For more information about issues related to rabies vaccine, please see the
Rabies Challenge Fund
, and consider making a donation, if you can.